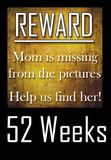 You know what this means. Yep, another picture of me.
Here I am with A.Z. our youngest. A.M. our 4 year old can be seen in the background.
Carin has issued the challenge
and if you're up to it, head over to her place to link up. It's pretty easy; just get in front of the camera instead of behind it all the time. Easy, huh? Yeah, you'd think so. Actually, I have a hard time remembering to do this. But I've only missed a few weeks. I just jump back in where I missed and keep on. You can, too. Go for it!
Until next time...