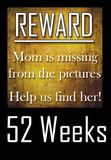 Carin
's challenge: 52 photos of mom, once a week, in front of the camera. Go for it!
Here's me again:
I always have fun trying to get a pic with this one. She's a character.
Now it's your turn. Go to
Carin
's and link up your own picture. It's not too late to join!
Until next time...