So, yesterday I posted about a cloth wipes giveaway, now there is a cloth diaper giveaway (I love these!).
I found this site through
Cloth Diaper Blog
. Every week she posts about the cloth diapers giveaways on other blogs. One this week is from
Monkey Tales
.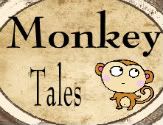 "/>
Oddly enough, the cloth diaper being given away came from
Three Monkeys
. No connection except the name. Cute, huh?
And speaking of cute. Wow! There are so many cute diapers on that site. I was asked to choose a favorite, and after perusing the possibilities I thought, "HA! How am I supposed to choose a favorite with so many cute fabrics?"
And the price? Perfect! (Seriously, they are less expensive than, well,
all
of the others I've looked at).
So, if you are into cloth diapering or know someone who is, I highly recommend checking out this giveaway. Honestly, even if I don't win, these are so affordable that I just might be purchasing some. The hard part will be limiting myself. :)
Until next time...