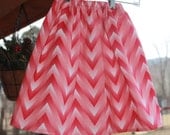 Ok, this is really odd.
Does no one want a skirt for free? Totally free?
Or maybe you just missed my post on the giveaway?
I'm having a giveaway here from my etsy shop.
Any toddler/little girl skirt that is listed in my shop.
The giveaway will end March 1st (this Saturday).
All you have to do is go check out my etsy shop (
LotsaBlessings
), then comment on the
giveaway post (here
) saying which skirt you would pick. Of course make sure I can contact you with either your posting name or your email in the comments.
It's so easy!!!!
Until next time...
JenT