So, here's another picture of me per
Carin's challenge
. You know the one - Mom, get in the picture! :)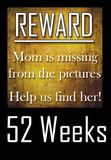 If you read my previous post, you know how early it is. Don't expect anything great. It's all real, folks.
Yep, hair's up, no make-up, early morning look. With my early riser.
Go on over to
Carin's
and see more pictures of more moms. We're out there. Just usually behind the camera.
Until next time...