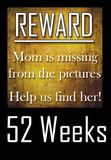 You thought I was finished, didn't you? Well, I'm not. I'm just a few weeks behind. Forgive me. I'm really not all that into posting lately. School, tiredness, toddlers...they kind of make a person put some things on the back burner.
However, I had some family visit over the weekend and the beginning of this week and thought I'd share a few pics that someone snapped of me. So here goes...
me with my grandparents
me and one of my aunts
So that's it for this week.
Other moms have gotten in on the challenge from Carin. Some have finished already, but some are still working on it. Go see at
her site
.
Until next time...