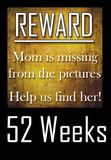 Hey, you know what? I'm cheating this week. This is one week I
DON'T
want a picture taken of me. And believe me, you
DON'T
want to see one. I'm pale, losing weight (well, that's actually a good thing), and a huge fever blister just popped up on my bottom lip. Blah! Nope, not gonna happen. And I just
KNOW
that you gals will totally understand. :)
Now
this
is a blast from the past.
I am the one right in the middle, with the long, curly hair. This was, I think, the last Christmas I was single or the next to last. Right before I went to Japan in the Air Force. I think. Anyway...
I'm the oldest grandchild and this was a picture of all the grandchildren at that time. There have been more since then, and the addition of great-grandchildren. The little girl in my lap? She's graduating high school this year. I can't believe it! I helped give her her first bath! Where does time go? Six more of these cousins have children of their own. Wow!
So, there you have it. My picture for the week. Please forgive me if it isn't me as a mom. It's still a picture of me. :)
And now, go over to Carin's and see more mom's who have accepted the challenge and made it in front of the camera.
Until next time...