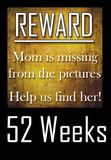 Well,
Carin
made it through all 52 weeks. I'm encouraged. I think I can finish. How about you? Are you still plugging along? Getting in the picture, at least once a week?
Sorry, not the best quality of picture. It was a night shot in the van using the flash. But it was the best out of the bunch. And it was after a really fun day.
And I thought I'd add the family picture we tried to take for cards this year. After about 30 shots we narrowed it down to two, then one. But we still haven't got our cards made. I guess now they'll be new year's cards. Oh well...we tried.
Ahh...memories.
Until next time...