I went to a ladies' ministry meeting at our church this week. We had a Christmas gift exchange and I received a
Pashmina.
100%!
To fully understand my excitement at getting one of these, you have to listen to
this
. Jeanne Robertson is a former Miss North Carolina and is soooo funny!
Yeah. Me and my Pashmina!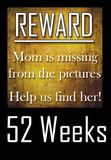 And since this is a picture of me, I'm using it for
Carin's challenge
...you know...being in front of the camera.
Until next time...