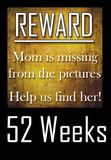 I feel like I'm a day behind on everything this week. That forgotten-then-remembered dentist appointment really threw me for a loop.
Ok, so here's my picture for this week of
Carin's Challenge
. The one she started last year. I'm on week 38 so I still have a few more to go. Then I guess I'll start her next challenge. Still pictures of mom, but they can be by myself or with anyone in the picture.
Sorry for the blur. My oldest took it out to get pictures of the snow and it got a little frosty on the lens. But she did a good job! Like the black and white effect? She decided to do that. Spice it up a bit. :)
Now go on over to
Carin's
and check out all the links she's got. A lot of moms are getting in on her new challenge, Shoot Me!. I'll start that one after I've finished this one.
Until next time...