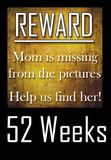 Do you know how hard it is to get a picture of this girl? Hard, I tell ya!!
But I finally got one. :)
This is in compliance with
Carin's challenge
of 52 Weeks; pictures with mom in them. Fall in the boat with us, get on board, and all that. While your at it, check out the other moms at
Carin's place.
Until next time...