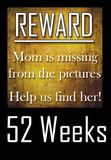 See Carin's Challenge over at her place.

Yes, I know I'm a day late. Forgive me.
My brother is leaving East TN for Cincinnati, OH for a job promotion. While we are happy for him, we are also sad he's leaving. Well, actually he left earlier in the week. He'll get to come back for visits, but they will be not as often as before. So, here's a last shot of us at my mom's house last weekend.
Until next time...