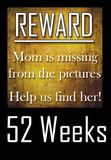 If you read any of my previous posts you'll know that we were in VA this past weekend. I actually did get a few pictures of me.
So, I'm posting one in accordance with
Carin's challenge
of moms getting into the pictures. Here goes:
Sorry for the blur...we were on the tram.
Now it's your turn to join in if you haven't already. Start now with week 1, it's not too late. Go visit
Carin
and see more moms in the picture. You'll be glad you did.
Until next time...