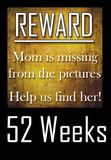 Well, somehow I ended up doing two things on Thursdays. I'll figure that out later. I've already done a Thankful Thursday. To read that, go
here
. Now I need to post a picture of me. Yep, you read right. A picture of me...moi...yours truly. To join in click the wanted poster above.
Now since today is also my oldest son's birthday (see my other
post
on that) I'll try to find a picture of him and me together. Hold on a sec...here ya go.
Until next time...