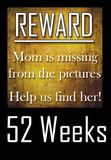 Well here I am again. A picture that is.
Carin is hosting 52 Weeks. Photos of mom with the kiddos. Go
here
to join in and see other moms.
I'm at the far left all in black...black is slimming you know. 8 of the kids, 9th wasn't born yet. My mother in law in the back. We went to the Children's museum in Winston-Salem, NC. Met my bil and sil there (and their son). Loads of fun...as you can see. Actually it was pretty cool and we did have fun...this was at the end and the littles were getting tired...and hungry. We went to lunch after that. Well that's my pic for this week.
Until next time...