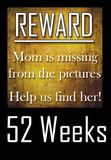 ********************52 Weeks********************
52 Weeks is a year long challenge for YOU to be in a picture once a week for 52 weeks. We are always the ones behind the camera, this is YOUR chance to get out in front and be in the pictures with our family. We are glad you are joining this challenge. More importantly your family will really enjoy having you in the picture. Thanks for playing along! Oh, you can just jump in now with 1 of 52, you're not getting off that easy! Now go take a picture!
**************************************
My submission for this week. Do hubbies count?
Sorry, like
Carin
said, I was behind the camera all weekend on our little vacation. Hubby snatched it for a second and had one of the kiddos snap this one.
Head over to
Forever in Blue Jeans
and see some more pictures of moms who are usually doing the picture taking.
Don't forget my giveaway! Go enter here.
Until next time...