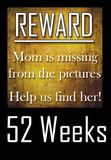 Carin over at Forever in Blue Jeans
has issued a challenge for us moms. We are always behind the camera it seems. What will happen when the kids are all grown up and looking thru the photo albums?
"Where's mom?"
"Oh, I think that's her."
"No, that's the aunt we never met."
"Oh."
"Ooooh, I think this one's her."
"No, that's just a friend of the family. I remember her."
"Well, where's a picture of mom when we were kids?"
"She always took the pictures. She must not be in any."
Sad, sad.
So hand over that camera and get in the picture with your kids. You'll be glad you did. Then go link up at Carin's and while you're there visit the other moms getting in on the game. 'Nough said. Here's my contribution to posterity:
Until next time...