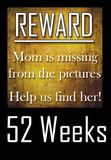 _____________________________________________
52 Weeks is a year long challenge for YOU to be in a picture once a week for 52 weeks. We are always the ones behind the camera, this is YOUR chance to get out in front and be in the pictures with our family. We are glad you are joining this challenge. More importantly your family will really enjoy having you in the picture. Thanks for playing along! Oh, you can just jump in now with 1 of 52, you're not getting off that easy! Now go take a picture!
____________________________________________
So, like, every Thursday I suddenly remember that I need to get a picture of me. I'm trying to rotate through my children. This week it's me and the Princess. This girl is
all
girl. Anything you can think of that has to do with girly-girl, Princess-y stuff she has done or will do. She is such a joy and blessing to us. (And she looks like her daddy). Please excuse the puffiness of mom's face. Dh and I were up past midnight talking. With him working 7 days a week, and not getting home until really late, that's the only time we have to talk. Kind of draggy today, but hey, I have a good excuse.
Now head over to
Carin's
and see some more mysterious moms. :)
Until next time...